Best to Build or Buy?
Posted by Hughes Group Blog Team on Friday, July 7, 2017 at 9:49 PM
By Hughes Group Blog Team / July 7, 2017
Comment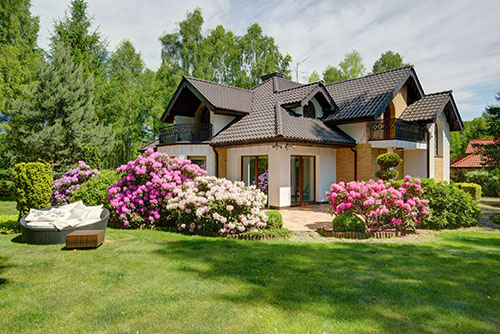 There are several options available for people looking to buy a home. Buying an existing home is an option. Whether it's a foreclosure, for sale by owner, or a sale through a realtor, an existing home has its perks and challenges. Likewise, building a home can be a great experience, but it takes a bit of research, time, and can be a bit unpredictable. No matter the choice, moving into a new home can be stressful and fun, but what are the pros and cons of both building and buying?
Building a home is a great way to ensure that the home is exactly what the buyer needs. Sometimes, it can be hard to find an existing floor plan that accommodates all of the things that a buyer is looking for, so building a home from scratch can offer customization and unique quirks built into the home from the start. Finding a builder can be a trick, however. In building, it's a good idea to check out a few options and interview different building companies to see which ones offer the upgrades and work ethic desired. Plus, the whole experience can be made better if both the builder and the buyer are on the same page and get along well.
Sometimes, the perfect home is within reach. Finding the right home at the right price can be tricky, but sometimes the perfect place falls into place without as much work. For those who are trying to save money and are willing to buy a home that needs some tlc, or for those who need to be in a home sooner rather than later, buying a home can be a great option. Though it's possible to find a house that checks off every requirement buyers would like, it can be hard and disheartening for those buyers who have come up empty handed. It may be time to consider buying a home that's less than perfect and spend some time and money upgrading and updating an older home.
When it comes to deciding whether to build or buy, the budget is a large factor. Either decision has the potential to cause overspending as both options may bump up against some snags. Determining budget should include some wiggle room for buyers to be able to fix the unexpected problems without feeling like they are breaking the bank. Some buyers lean toward building a new home because there are many opportunities to customize a home in a way that may cost more in renovation than it would be to build from scratch, plus they may not be as handy or have any desire to put in the work that could bring about such personalizations. However, there are people who look forward to the challenge of rebuilding a home project by project. For those who are interested in flipping homes or are even interested in turning a less desirable space into a paradise, buying an existing house can be worth the blood, sweat, tears, and extra funds that must go into such plans.
Since financing a home is often a large part of the decision process, it can be worth noting that either direction can be more expensive depending on several factors. When trying to decide if buying or building is the best route, it's possible that either answer could be the best option. Some builders are really inexpensive and can put a lot on the table that will sweeten the deal for home buyers, while other builders may specialize in higher end products, more intricate designs, and higher prices for their employees or contractors. In certain areas, the housing market may be prime for buying existing homes rather than waiting for a new home to be built. Likewise, there are probably sellers who have homes listed at the top of a budget or at a price point that's not ideal, therefore putting building in a better standing. But, it's possible that buying an existing home could mean moving into a nearly perfect place much sooner than it would take to build and may require some small adjustments to one or two rooms, thus saving cash and moving along the moving process.
When deciding to build, it's a good idea to check out the cost of lot prices. Often, meeting with a builder can cause buyers dreams to soar (which isn't a bad thing), but they then remember that the home must be built on a parcel of land and that sticker shock can be pretty rough. Knowing where the build will be happening can help to ease a buyer into the budgeting process because it allows for land prices, building materials, worker rates, and other fees to be made known prior to signing on the dotted line. Additionally, some neighborhoods charge homeowner's association fees that should be calculated into the final costs, though this can apply to both previously built homes and homes in the process of being built.
Some homeowners may be more comfortable purchasing an existing home because, though there's likely going to be a bit of unexpected cost to moving, the cost to purchase an existing home is less likely to rack up as many extra expenses when compared to building a home. Plus, the expenses that may creep in are often smaller things that can be paid off over time, while building a home could lead to problems that require more immediate attention.
The process of choosing a home, bought or built, can be a fun rollercoaster. Whether building or buying seems to be the best fit doesn't matter as much- what's important is knowing what's going on and enjoying the process. Don't let the stress of closing and moving dissuade from the excitement that comes with owning a new home. There will never be another chance to stay in a newly purchased home for the first time, so savor every second of the journey and understand that the stress will fade and beautiful memories stand waiting to be made after the dust has settled.
Sources
http://money.usnews.com/money/personal-finance/articles/2012/04/23/build-or-buy-a-housing-market-dilemma
http://realtormag.realtor.org/sales-and-marketing/feature/article/2015/05/build-or-buy