Basement Masterpieces
Posted by Hughes Group Blog Team on Friday, December 9, 2016 at 4:51 PM
By Hughes Group Blog Team / December 9, 2016
Comment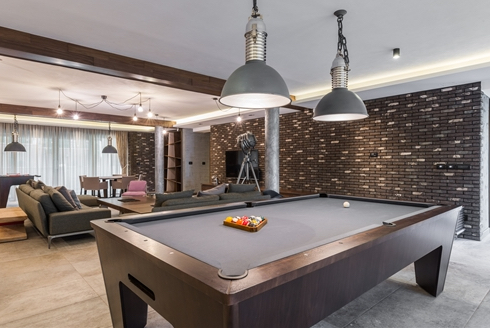 What is a basement? Is it a place with rooms for guests? Is it a rec room for working out? How about a game room for watching football and playing Settlers of Catan? A basement can be many things. If you are wanting to optimize the space in your basement, why not remodel it into your favorite spot in the house? Many people have done just that, so take inspiration from some of the craziest basement remodels.
One Star Wars fan decided to turn their basement into a game room bar. A lighted pool table sits in the middle of the bar room, which is painted black from floor to ceiling. Tiles of dark grey are polished for maximum reflection while full body costumes of a stormtrooper and the Sith Lord himself- Darth Vader- stand menacingly nearby. Bar Stools surround a few tables that contain a bubbly water-filled base that reflect colored light. These give off an ethereal glow only matched by the neon light decoration above the fully stocked bar- a stormtrooper shooting laser bullets across the wall. When you factor in the darkened mirrors and murals on the walls, this space is the perfect basement hangout for any Star Wars fanatic.
If retro video games are more your style, then take inspiration from a gentleman and his son who turned their bland basement into a nickelcade to rival all nickelcades. The father/son team have dubbed it the Vintage Vault, which seems fitting when you notice games such as Tron and Joust are among the collection. Each wall is lined corner to corner with every arcade game you can imagine. In the center of the room is a foosball table and an air hockey table, and a bar with more small screened games is also in the middle area. It just wouldn't be proper to exclude games such as Atari's car racing games- so those can be found along one wall. In case you were wondering, the basement does have a section dedicated to newer gaming systems and even has a small alcove for a mini-fridge and sink. The couch and flat screen television almost seem out of place compared to the bright neon of the rest of the room, but that's a small sin that can be easily overlooked. None of the games cost money to play, so it's possible to earn the highest score on Duck Hunt without burning a hole through your coin purse!
Sports fans will drool over the idea of a basement dedicated to a sports team of their choice. In the Treasure Valley, this sports team is overwhelmingly the Bronco football team. From the smurf turf to the bright blue and orange jerseys, there are many opportunities to deck out your basement. With a bit of paint on the walls to make the basement look like the field, and a mural to memorialize fans in the stadium, some fans are well on their way to being called number one. Turning the basement into a home theatre is a great idea- makes viewing the home team in life-sized grandeur a reality. Dedicate one wall for a movie screen by purchasing a hanging projector screen. Next step, build stadium seating facing the screen. Set up your projector, and presto- football season is transformed. Add a real chunk of blue turf, framed next to the jersey of your favorite player's jersey and you've got some real potential. One hardcore Bronco fan, though, went above and beyond in their orange basement bathroom by special ordering a toilet with the Idaho Vandals logo in the bottom of the toilet bowl as a constant reminder of where their loyalties lie.
One fun idea to consider has been done in a few different ways, yet has never failed to be cool. Grab your bowling shoes and head on down to some of these basements to strike gold and find a fun renovation idea. With most bowling alleys, the decor is wall to wall bright color and the option to have a disco night is available with the flipping on of a blacklight. Orange couches and starched white circular chairs decorate one man's basement and capture the feel of disco night while still remaining classy. The wall behind the long orange couch is decorated with intricately placed mirrors as a sort of art installation to add a touch of glamor. A glass wall separates this two-lane alley from the rest of the basement. On a different note, though, one homeowner wanted a bowling alley, but was not a fan of the loud colors. Instead, this basement is clothed in rustic barnwood. Criss-crossing planks bring this entertainment room to a new level. The wood runs the length of the room and is mimicked in color by the ball return. Replicas of gas lanterns hang from the walls, making this bowling experience almost feel like it's in an abandoned mining cave. The rest of the basement continues with the theme, but the bowling alley is truly the main event in this beautifully remodelled basement.
Regardless of your design tastes, it's possible to theme your basement remodel and turn it into a masterpiece that will have you excited to invite guests over. Whether you prefer an experience travelling through space or a classy club feel with your favorite bowling ball, imagination and a little bit of effort can help you to tailor your space to be the basement of your dreams.