Backyard Hacks You're Going to Enjoy
Posted by Hughes Group Blog Team on Thursday, December 27, 2018 at 2:07 PM
By Hughes Group Blog Team / December 27, 2018
Comment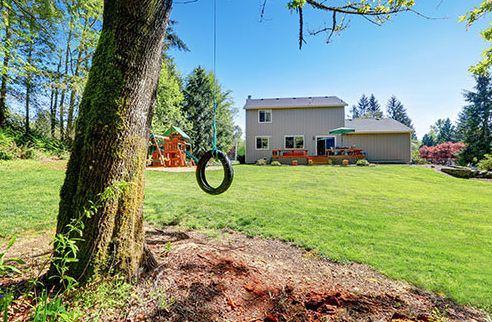 A home's backyard is often the make-or-break feature of a home. It can be the factor that makes us say "sold" to the house or turn away. Size, shape, and maintenance are important features to consider. But say you already have a great backyard with lots of potential, but it needs some help. How can we amp up the backyard space to make it better? This article will give you some starting inspiration on how you can create a space everyone wants to be in. As a bonus, most of these ideas won't take up a lot of time, nor will they break the bank!
There are a few ways you can go about starting your simple backyard remodel. You can either pick some basic products and create ideas from there, or you can start with an idea and create the necessary items to follow suit. Let's start with some simple items and products you can use to get yourself started.
Standard car tires are a surprisingly great thing to use if you want to do a quick little project to give your backyard something extra. You can, of course, make a classic tire swing! By getting a huge rope and tying it around the tire and a branch of your tree you can have the classic swing that many traditional American homes seem to have. You can also make a planter with your tire. Some people turn it sideways and put the soil inside the whole middle. From here, you can put it on the ground or mount it to a stand of some kind and make a planter table. You can also prop the tire upright, or hang it like the tire swing, and just fill the bottom of the tire with soil and your choice of flowers. It is so cute and so creative. You can even throw a coat of paint on the tire to add a little extra pop of color. Tires are also ideal if you're trying to grow potatoes in your garden. If you stack several tires on top of each other and put the soil inside the cylinder, you create the ideal vertical environment to grow your own potatoes.
Basic cinderblocks can be found for cheap at any home improvement store and they can be used a myriad of ways to give your backyard a little extra something. By stacking them together and threading 4x4 planks through them you can make an awesome and very cool looking bench. Like the tires, you can make a planter for flowers in several ways. You can stack them straight up to build a wall or turn some sideways, so some blocks are exposed. Then you can fill the exposed squares with the flowers. Again, throw some paint on there and give it a fresh look. Putting succulents in cinderblocks is a pretty popular idea. The contrast between the watery luscious succulents and the cold hard cinder block is a very cool and trendy look.
Another object you can repurpose in a lot of ways is a wooden pallet. You can find wooden pallets for free behind any of your major grocery stores, but always ask to be sure before taking any. They often just stack them outside in the back for disposal. A pallet can be used as is, or you can take it apart and reconstruct it. You can use it right-side-up, upside-down, or sideways. If you stack two or three on top of each other, give it a quick sanding and maybe a coat of paint you can create a large backyard coffee table ready for some surrounding chairs. You can also find templates online that will show you how to take the planks of wood apart and reconstruct them to make a bench. This creates great functional and attractive seating for your backyard. If you prop it on its side, with the bottom exposed you can fill the space between some of the inside planks with soil and have another idea for a unique flower planter. You can also spice it up by planting herbs to use in the kitchen instead.
Tiles are another product, like cinderblocks, that can be found new for a low price and home improvement stores. You can put them together to create a patio space. If you want to add a little fun to it you can paint the occasional tile for a pop of color. You can also place them apart from each other for stepping stones in certain areas of the yard.
If you don't want to start with the items, you can start with an idea. Here are some ideas to get your imagination flowing.
Lighting is a great way to get started sprucing up your backyard. If you decide to have a rock and brick border to your grassy area put with LED outdoor light strips between the rock and the brick to add some cute mood lighting. Twinkle lights are always a great option for lighting too. You can hang them above in a square framing a certain section of your yard with seating, creating a faux pergola. Wrap your trees with the twinkle lights for mood lighting as well. For any of these ideas, you can use big bulbs or little bulbs, and you can have them be solid or twinkling. You can also use mason jars. Put large bulbs inside the jars and you can hang them or put them on the deck railing. If you wanted to go the extra mile, you can paint the jars.
Paint is another place to start. A little bit of paint goes a long way. Find a color scheme that makes you happy that you'd love to find in your backyard, take any of these materials and put a little paint to it. Find some spray paint, painter's tape, and go to town.
Backyard games are a fun way to make your backyard the place to be. You can make a giant Jenga set for some precarious fun. The bag toss game is another that's easy to find or make and fun for everyone. A ring toss game is another fun one to put in your backyard and people of all ages can play. If you want to give it a fun nighttime application, you can take glowsticks and connect them in circles so you can play after the sun goes down. If you want to use the tiles we talked about earlier for some games, there are a couple of options. You can get two colors, or paint half of them, and create a giant chess and checkerboard right there in the grass. You can also make a permanent hopscotch court if you anticipate having young kids over very often.
Swings are another cute way to add character to the backyard. You can use tires, an old chair, a skateboard, or a regular wooden board. For the chair idea, just take off the legs drill four holes in the base and tie ropes. Spray paint it for a cute pop of color. These swings are fun ideas for adults too because they won't squeeze your hips like the ones at the park. As you can see, there are a lot of cute and affordable options to give your backyard a quick and easy remodel. You just need to find what works for you and let your imagination work its magic.
Sources
http://www.littlehouseoffour.com/2017/05/14-insanely-awesome-and-fun-backyard.html https://www.buzzfeed.com/peggy/51-budget-backyard-diys-that-are-borderline-genius?sub=3273665_3005236
https://about-ruth.com/2017/08/06/63-creative-cinder-block-backyard-ideas-on-a-budget/ https://www.diycraftsy.com/diy-backyard-ideas/