Backpacking Locations Near the Treasure Valley
Posted by Hughes Group Blog Team on Thursday, March 21, 2019 at 2:38 PM
By Hughes Group Blog Team / March 21, 2019
Comment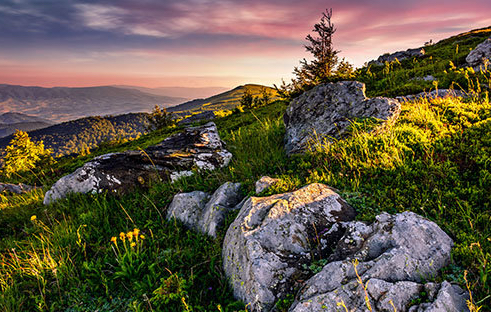 One of the most popular activities to take part in for those either living in or just paying a visit to in Idaho is backpacking, or going for a hike carrying everything you might need with you in a backpack. Adventure is in the fresh air all throughout the Gem State and along its endless amounts of trails and mountains. Going for a backpacking hike is absolutely one of the best ways to experience the great state of Idaho. A large portion of Idaho residents and visitors find themselves in the city of Boise, but just because you might be in the city doesn't mean you have to miss out on backpacking. You will see that the Treasure Valley area is surrounded by thrilling places to see some gorgeous nature and get some fresh air.
One of the most popular trails for hikers in the Treasure Valley is Lower Hulls Gulch. What makes this particular spot a favorite among many in the area is its convenience. It is a much shorter trail than many others at about 7 miles round trip, but still offers some adventurous challenges and some impressive rocks to figure your way around. If you are looking for a shorter adventure (especially with a group), this is a great option to have a memorable time. The trail also offers a lot of freedom, allowing you to bring your mountain bike or even your dog, and you can spot wildlife year round such as red fox, great horned owls, and several species of reptiles, particularly lizards and snakes. Just travel a few miles outside of town and you'll find yourself at this excellent spot!
This one requires a little bit more travel from Boise, but it is absolutely worth it. Craters of the Moon is one of the best National Parks in the Western United States, and one of the best places to go backpacking for that matter. When you hike in this National Park, you will see where it got its name. You'll truly feel like you are going for a jaunt on an alien planet, as the craters formed by lava flow offer such a unique look that can't be enjoyed anywhere else. Located a few hours from the city of Boise, this is where you might want to go if you are searching for a fantastic weekend adventure. You'll see rock formations unlike any you have ever seen before when backpacking through this terrain, and it truly offers sights that you won't forget anytime soon. You'll also get a chance to see a lot of plant-life that is unique to the area. If you are wanting a different type of backpacking experience to highlight your summer, pay a visit to this part of outer space known as the Craters of the Moon!
If you want to take a whole week out of your summer for a delightful adventure, then you may want to check out the 32-mile loop in the Salmon River Mountains called the Sleeping Deer to Mid-Salmon River Loop. Hikers on this trail have seen big game that can't be found everywhere like moose, elk, and even bears! This is truly a hike for the books, full of gorgeous scenery, and is the highlight of the summer for many who go for a thrilling backpacking trip in this part of the state. From July to September is the best time of the year to go backpacking here, and hikers typically spend 3-4 days here on this hike. For a more hardcore hike to really live in the great outdoors of Idaho, this loop is the place to go!
One of the most popular vacation spots near the Treasure Valley is without a doubt the McCall ski resort. In addition to being a fantastic place to go skiing during the winter, the mountains and surrounding area provide some picture-perfect places to go for a backpacking trip. One of these is a 7-mile trail along Rapid River. The Rapid River itself is a glorious sight to behold, as it is remarkably clear. The trail leads to campsites next to Hells Canyon along the border of Idaho and Oregon, which is one of the most beautiful places to check out in the entire state, with an impressive depth that surpasses that of the Grand Canyon. The Rapid River trail is perfect for a short backpacking trip with lots of gorgeous sights to see.
A great mid-sized trail in the mountains near Boise is the trail to Tripod Peak. It is one of the best options available if you are looking for some high-altitude backpacking, and the trail ends with one of the most beautiful overlooks you could ask for of the great Boise National Forest. For a longer and more expert level hike, go the full 12 miles, but there are also intersections with other trails that you can start at, making the trip a more comfortable day hike of around 6 miles. Either way, make sure you get to the top to take that gorgeous panoramic photo or even just admire the view.
Ending the list with a short trail very close in proximity to the city of Boise, there is much to love about Reynolds Creek Loop. At just a little over 7-miles, the trail offers different things to see all around you, going around incredible rock formations and going right on through a tall red rock canyon. This trail is fantastic for some variety to help you truly feel like Indiana Jones. And the best part is that it is less than an hour away from the state capital!
As you can see, adventure awaits you in the Treasure Valley area. You may just be looking to get out of the city for the day and have a little bit of a thrill as you get some fresh air or you may be wanting to take a whole week out of your summer to be the adventurer you've always dreamed of being. Take advantage of the great outdoors of the Gem State, and plan your backpacking adventure today!
Sources:
https://boisetrails.com/trail/hulls-gulch-lower/
https://www.backpacker.com/trips/boise-id-lower-hulls-gulch-loop
https://parks.cityofboise.org/parks-and-facilities/parks/hulls-gulch-reserve/
https://www.backpacker.com/trips/boise-id-walk-the-moon-craters-of-the-moon-national-monument
https://www.trails.com/us/id/challis/sleeping-deer-mountain-middle-fork-salmon-loop
https://www.backpacker.com/trips/boise-sleeping-deer-to-mid-salmon-river-loop
https://www.backpacker.com/trips/mccall-id-rapid-river
https://www.backpacker.com/trips/boise-id-reynolds-creek-loop
https://www.backpacker.com/trips/boise-tripod-peak
https://www.fs.usda.gov/recarea/boise/recreation/recarea/?recid=5078&actid=24