Are You Ready to Hit the Rapids of Idaho?
Posted by Hughes Group Blog Team on Sunday, June 5, 2016 at 12:18 PM
By Hughes Group Blog Team / June 5, 2016
Comment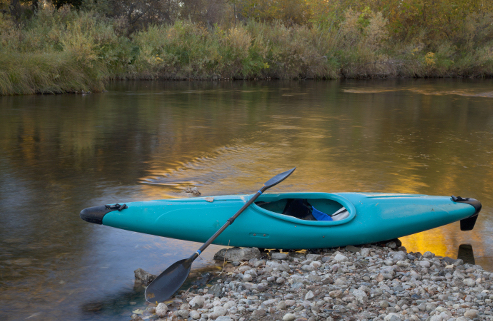 Whitewater rafting in Idaho is an incredible experience. Most river trips span several days. Some even take close to a week. The rivers of Idaho offer unparalleled experiences, and they take you through hundreds of miles of wilderness, untouched by humans. These locations are only accessible by boat. You'll camp along the river, on sandy beaches or grassy terrain.
Whitewater in Idaho is a fantastic experience, and it's one that allows you to explore nature in a way you never thought possible. While the guided trips provide much of what you'll need for your memorable journey, like food, water, and shelter, there are some things that aren't provided. You'll need to make sure you've packed everything that you will need. Once you hit the river, you are cut off from civilization until the end of your trip. There aren't any stores or any other signs of civilization along these rivers, so it's necessary to be prepared.
What's Commonly Provided
While this will depend on the outfitter or guide that you've booked your whitewater trip with, there are some common things provided by your guides and the tour. Obviously, they'll provide the rafts, boats, or kayaks for you, but they also provide some of the basics. They run a lead boat, or a cargo boat, that sets out ahead of you and your group, so that they can have camp set up and ready before you arrive.
· They will typically provide the necessary sleeping gear. This includes tents (generally, they provide one tent for every two people), sleeping bags, sleeping pads, and camping pillows.
· They also provide a waterproof duffel bag for you to carry your belongings in, like clothing. The duffel bag sizes vary, so talk to your outfitter or guide ahead of time to know how much room you'll have.
· They will have dry bags that will keep all of your sleeping gear, and non-daily use items. When you arrive at camp, all of your gear will be together and ready for you.
· Most of the time, they also provide you with a personal dry bag, for items you'll need while on the raft.
· They also provide food and water, and sometimes other beverages, like soda, alcohol (if allowed), and coffee. They have enough water to provide you whenever you need it.
What You Need to Bring
Apart from some items that seem obvious to bring, like a swimsuit, there are other items that you will need for you trip. A few may include:
· First up, you'll need a swimsuit. They suggest bringing several. And for women, they suggest shorts and a sports bra, or quick drying shorts and a 2-piece swimsuit.
· Raingear. Not only does this help you if it rains, but it can also be helpful at camp or on the water. The weather can be chilly and damp, so the raingear will help keep you dry.
· Several shirts that can dry quickly.
· A sun hat. This is a necessity. You'll be exposed to a lot of sun, so a hat, or lightweight hoodie, will help protect you.
· Several pairs of lightweight pants, shorts, shirts, and underwear for at the camp.
· Depending on weather, you might also like to bring some quick drying pants for the river.
· At the camp, or for hiking, you'll want warm socks and comfortable shoes.
· On the river, you'll want some kind of water shoes, or sandals. No flip-flops on the raft.
· They provide water, but you'll want your own water bottle to refill and keep with you.
· If you bring sunglasses, have a retainer so you won't lose them.
· You'll probably want to bring a camera. There will be plenty to take pictures of, and you'll want that option. You may also want to bring binoculars.
· They recommend SPF 15 sunscreen and lip balm, at a minimum.
· Have a washcloth and towel. Also, any other personal hygiene items you'll require.
· Bring any medications that you'll need.
· It doesn't hurt to carry cash, for either tips or emergencies, and a credit card for emergencies. If you'd like to tip your guides, they suggest ten percent of the trip cost.
· If you take a river trip in the spring or fall, you might also want moisture wicking long underwear. You don't want cotton products. Also, bring a warm hat, gloves, and jacket.
Be Prepared for Adventure
Now that you know what you need to bring, all that's left is to have a great time. Whitewater rafting trips are a lot of fun, and full of adventure. In order to ensure that you have the best possible time, make sure you're ready for the trip. Most outfitters and guides will provide you with itineraries and lists of items you need to bring, so check with them while you're getting ready. And don't forget to have fun!