Affordable DIY Home Projects
Posted by Hughes Group Blog Team on Friday, September 14, 2018 at 11:45 AM
By Hughes Group Blog Team / September 14, 2018
Comment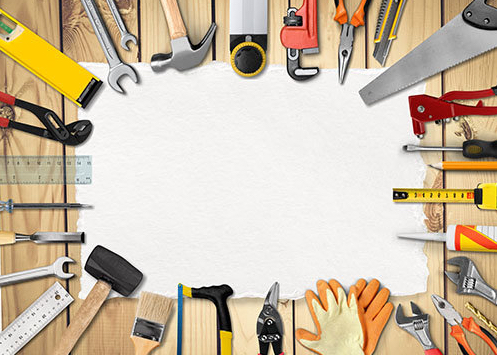 There are many DIY projects that can be done to the home for very little money; however, the feel and look of the home will be so much different. Here are some that you might enjoy.
Window treatment Replacement
When looking at those kitchen windows, have you noticed that they are deformation by the exposure of splashes and liquids from cooking that occur repeatedly? Something that will help this look after a while is by replacing the window that is stained covering by putting in a cheap but good quality fabric treatment. You will see love the new look and feel of your kitchen.
Message Center
Create a little message center on one of your walls, all you need is a simple piece of glass panel and wood to frame it. Once you have your supplies, you can paint the back of the frame/panel to match the colors of the location you will be hanging the message center. You will then grab some dry erase markers and start to use your new message center.
Fun with a bookcase
Give your bookcase a makeover by giving it an exciting new backdrop with contact or scrapbook paper or even fabric to get a new back. If you are one who enjoys redecorating often, you have the option to put up a back panel so that you can change the design or color scheme as much as you would like too.
Paint
Update the walls or a piece of furniture by bringing back to life with a coat of paint. If you decide to do the walls, make sure you use a neutral color that is not too dark. For those pieces of furniture, you would want to start by wiping off the wood ensuring all the dirt and wax buildup has been removed. You would then want to sand the rough areas down. After the first two steps are complete, you would coat the piece of furniture with some primer, allowing it to completely dry. After the primer is dry, you can coat it a couple times with latex paint. Make sure you go with the grain of the wood.
Trim work
Although the cost for new trim work can be more on the expensive side, you do have the opportunity to make small improvements with the trim work you already have. You can replace any mismatched trim, any missing trim, damaged moldings, caps for the ends, or baseboards. You may need a special trim tool for curved areas.
Charging Station
Nowadays, it is all about technology; do I have enough batter, where is the charging cord, and so forth. Constructing a small charging station for all the households electronics might be a good way to go. If you decide to go this route, you will need a small ledge shelf and cut little slits in the shelf that will allow the cords to go behind the shelf. You can then plug in the devices and set them in a hollow shelf. After the shelf has been cut, mount it to the wall or a desk and now you have a clutter-free space to charge those devices we all adore so much.
Entryway remodel
If you are looking for that perfect way to remove or at least limit the dirt/mud in your entryway? Well, a good way to do so is by laying out and installing a low maintenance flooring. You can even get a jelly roll pan and fill it with little rocks to place your boots/shoes on. If storage is tight in the entryway, you can place it under a table that fits out of the way.
Walkway
Many times, after years of a sidewalk being laid out, it can get cracks and gaps. You can quickly patch up the walkway to make it look nice and safe for when visitors come by. All you need is a small patching compound and it will look new.
Flooring update
Getting tired of those old floors, you can get creative by trying a new paint technique or adding a custom rug. If you have a vinyl floor, you can try the paint technique making an ideal, personalized flooring for your favorite room. A way to make it a more casual look is by making different size of stripes.
Cheap backsplash
If you are looking for that ideal kitchen look for your home, you will first need to determine what type of material you would like to use. You would then plan your layout. Once you have your material and layout you are ready to get started. Make sure you do your homework and you will end up with an attractive and ideal backsplash for your kitchen.
Switchplates
Many switch plates get dirty and cracked over time. You can replace the switch plates with ceramic, metal or even wood covers. If you do not already have plastic, you can switch it out for plastic ones. You can even find fun textured type to fancy the place up a little more. You can do this for the electrical outlets, light switches, phone and cable jacks.
Closet
Choose a closet that is messy adding certain accessories to be able to spice up a little organization. You can use organization accessories to bring categorization to the garments by putting them by color, day of the week or what not. You can also use the belt or scarf hangers to maximize space.
Recaulk
Many places can be re-caulked in an effort to help with the dingy, discolored look of bathrooms. You will first want to remove the old caulk before you put more on walls, floor, sink or anywhere else you have the caulk. Make sure and clean the area well prior to adding the new caulk but after you removed the old caulk. If done properly caulk seal could last up to ten years.
Dividers for those crowded cabinets
When considering the cabinets and trying to figure out the best way to organize them or getting tired of the overcrowded cabinets, you can try to add drawer dividers as well as cabinet dividers to add to the organization. Securing the rack dividers or even wood ones in the cabinets will allow for the items to be sturdier. You can even paint the dividers to match the design of the cabinetry. This can be done in the kitchen as well as bathrooms or closets.