6 Ways to Spice up Your Boise Home all Season Long With Pumpkins
Posted by Hughes Group Blog Team on Wednesday, October 16, 2013 at 6:42 PM
By Hughes Group Blog Team / October 16, 2013
Comment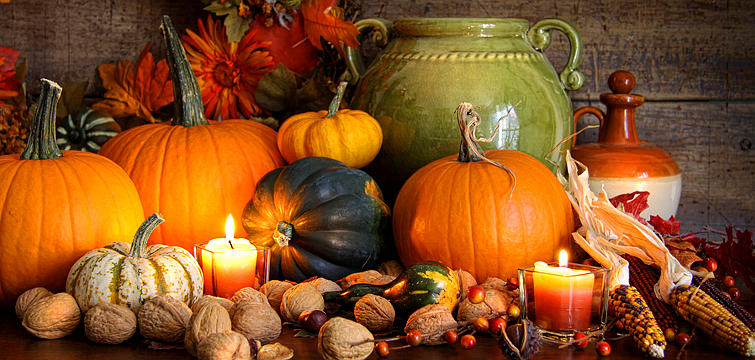 What better way to celebrate October (and the new season) than with a decorative overhaul of your home? Many homeowners embrace the month of October not only because they can finally take out the fall and Halloween decorations from the attic, but because it's crisp and fresh outdoors. In Boise, Idaho, it's an exceptionally gorgeous time of year with an abundance of colorful fall foliage. The weather is still warm enough not to require a parka, and those long evening walks with the leaves crunching under your feet is one of the simple pleasures of the season.
One of the most popular decorative elements for the season is the pumpkin. What we like best about the pumpkin is that it brings nature into your home with both elegance and style – and it spans the entire season – clear through Thanksgiving! There is no limit to the number of ways you can spice up your home with the pumpkin. They come in all sizes, they're affordable, and the entire clan can add their own style to create something fun. This season, the pumpkin trend is no carve. There's just about a million different things you can do with a no carve pumpkin, from monogrammed pumpkins, fabric pattern painted pumpkins to the decoupaged pumpkin. For those who don't have time to devote playing around with pumpkins, simply fill your now empty planters into the perfect pedestal for a simple autumn display outside.
Here are some of our favorites

.

Jar pumpkins. Better Homes and Garden came up with a unique and elegant idea with the pumpkin we love, using nothing but miniature pumpkins and a bell jar or cloche. Showcase several miniature pumpkins from within the jar to bring in a delightful touch of autumn into your home. The glass jar or vase brings a touch of formality and elegance, and you can accent the base with a colorful arrangement of your fall favorites, such as bright red leaves or flowers.

Pumpkin lights. You can add a spark to your Halloween inspired home decor without the difficulty of carving pumpkins. Add flickering lights to any table arrangement with a mix of pumpkins and gourds by simply cutting holes in the top of the pumpkins, scoop out the insides, and place a candle inside. Complete the display by adding a variety of sizes and shapes of gourds around the pumpkins. It's perfect on any shelf, the mantel, or the dining room table.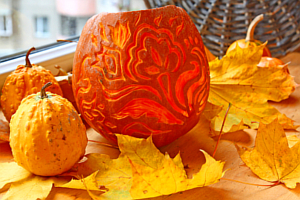 Accent your pumpkin arrangements. What better way to spice up a pumpkin arrangement than by adding vibrant seasonal colors? This season purple is one of the hottest trends. It adds a splash of daring color to the traditional blacks and oranges of the season in perfect complement. Add color by replacing your flower vases with a lovely bouquet of leaves. You'll love the vibrant splash of color it brings to any room in the house. What's so great about this seasonal decoration is that it's so simple – all it requires is a few snips of small branches off any tree in your yard. If you'd like something that lasts longer, any crafts store will carry a plethora of faux leaves in a variety of colors. Simplicity at its finest.
Moth pumpkins. Who said pumpkins had to be orange? With a foam brush and two coats of white acrylic paint and 30 minutes of dry time, you'll have Halloween's hottest pumpkins. We got this idea from Country Living, and loved their autumn inspired moth decal pumpkins. With the stark contrast of the white paint, show off an assortment of weather resistant vinyl moth decals for something different this October. You can set these pumpkins outside by the door or atop any shelf.
Patterned pumpkins. Pumpkins are not only great for painting menacing faces. You can create crafty designs using the acrylic paint leftover from your moth pumpkin making to create patterned pumpkins, another fabulous idea we loved from Country Living. Along with the white, the colors you choose are up to you. With some painter's tape, you can create any number of nifty designs. Our favorite is the chevron stripes. To create this fun and vibrant look – whether you're forming two stripes or tons – link short strips of tape to make the zigzag patterns around the pumpkin. Use a foam brush to cover the entire pumpkin with two coats of acrylic paint, allowing 30 minutes to dry per coat. Remove and throw away the tape.
Glitter pumpkins. Moving along with our no carve pumpkin theme, the glitter pumpkin is one of the most fun. Great as an afternoon project perfect for the entire household, these glitzy pumpkins will definitely add some autumn jazz to any arrangement. HGTV suggests having these materials on hand: pumpkins (of course), colored glitter, spoons, spray adhesive, small paintbrushes, brown craft paint, rolls of craft paper and newspapers. Prepare your work area by laying down an extensive sheet of newspapers topped with a sheet of craft paper. Bring out the various sized pumpkins you picked up and choose which one will be dressed in which color glitter. Spray the top and middle portion of a pumpkin with spray adhesive, and while it's still wet, use a spoon to sprinkle glitter over the sticky areas of the pumpkin. Let it dry. Pick up the pumpkin and shake off any glitter that didn't stick and funnel into the craft paper and pour the extra glitter into its container.
Once you've completed your home's new seasonal makeover, sit back and enjoy your creations. Then get busy with one of the best parts of the month: the Halloween movies!
Hughes Real Estate Group specializes in helping both buyers and sellers reach their goals throughout the Treasure Valley, including Boise, Meridian, Nampa, Eagle, Caldwell, Kuna and Star – plus all surrounding areas. Whether it's your first time dabbling in the market or you're a repeat home buyer, our team of experienced agents will work tirelessly until the job is finished – and beyond.