14 Fun facts about Idaho!
Posted by Hughes Group Blog Team on Saturday, April 8, 2017 at 5:41 PM
By Hughes Group Blog Team / April 8, 2017
Comment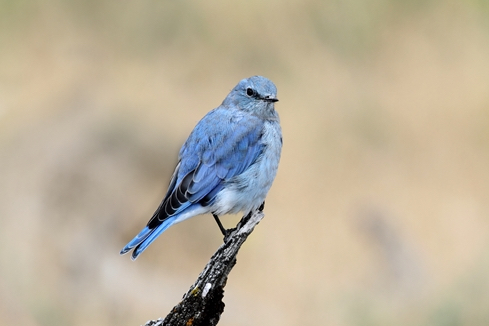 "Idaho", the name brings to mind images of towering pine trees, placid lakes, and delicious potatoes and … is that it? No, that can't be it because there is much more to do there, we can't just stop at lakes, potatoes, and pine trees; while these are wonderful, they do not represent Idaho completely. You see, Idaho is a very interesting place with tons of fascinating factoids scattered through its culture and history. Today, we are going to share with you 14 of these fun facts about the great potato state and by the time you are done reading, you are not only going to know more about this state, but you'll be all the more desperate to come and explore it for yourself.
The State Bird of Idaho is the Mountain Bluebird
While birds of all kinds fly through the skies of Idaho, there are few that share the beauty and uniqueness of our grand state like the Mountain Bluebird. It is not uncommon to see a Mountain Bluebird as you hike through the Cascades or ride across the Sawtooths it becoming a symbol of all that is beautiful about Idaho. Their diet consists of berries and insects.
Idaho's Nickname is "the Gem State"
Due to the massive variety of gems that are found here in Idaho got the nickname "the Gem State". There are so many different gems, some of which are in very large quantities. However, the number of diverse gems that can be found here isn't the only reason to pay homage to Idaho's mining activities. If it weren't for the gold mining that was going on in Idaho City back in the 1800s, Idaho may have simply stayed the home of a military base.
The State Gem of Idaho is the Star Garnet
The Star Garnet is a rare part of the garnet family that is only found in small quantities around the world. That is, except for India and Idaho. The Star Garnet is a purplish gem that is used in many industries from production to jewelry. It is a beautiful rock that can be quite valuable.
The State Raptor of Idaho is the Peregrine Falcon
Above we mentioned that birds of all kinds fly through Idaho's skies and that is no understatement. In fact this even extends to birds of prey. Idaho is home to dozens of species of birds of prey from the bald eagle to the osprey and there are few as mesmerizing as the peregrine falcon. The peregrine falcon not only roams the skies here, but it also owes Idaho its life. You see, here in Idaho we have the World Center for Birds of Prey which is also home to the Peregrine Fund. These organizations were responsible for getting the peregrine falcon off the endangered species list by raising them and releasing them into the wild. They are currently doing a similar project with the California condor. You can visit the World Center for Birds of Prey and learn more about their beautiful birds by taking Cole Road south of the Boise airport.
The State Flower of Idaho is the Syringa
Now, we have to mention that there are two types of syringas in the world. The traditional syringa is a lilac, whereas the syringa we know and love here in Idaho is a white desert flower with four petals and a yellow center. Their proper name is Philadelphus lewisii and it was discovered (and then named after) Meriwether Lewis, the same Meriwether Lewis that scouted the west with Sacagawea and William Clark. It is said to be a woody bush that is native to northwestern states and parts of Canada.
The State Capital of Idaho is Boise
Of all the wonderful cities in Idaho, there are few as great as Boise. This medium sized city was once home to the military fort called Fort Boise (those who have played Oregon Trail will find this familiar) and the old Idaho Penitentiary and has currently stood as the capital for around 100 years. Before Boise was the capital, Idaho City acted as the capital, but when the gold rush died down in that part of Idaho people started migrating more towards Boise.
The State Fruit of Idaho is the Huckleberry
If you like the taste of huckleberries then Idaho is where you need to be. We have huckleberry jam, huckleberry pancakes, huckleberry ice cream, and so much more. It is one of the most 'Idaho' food to come out of Idaho after the potato. It is so much a part of Idaho culture that there is even a huckleberry festival in Donnelly Idaho every August. There are many types of huckleberry that are native to the great potato state making it not only loved but easily accessible by locals.
The State Song of Idaho is "Here We Have Idaho"
"Here we have Idaho" is a wonderful song that was created by Albert J. Tompkins, McKinley Helm, and Sallie Hume-Douglas. This song has a lazy, yet joyful, tune that is played over a foundation of a whimsical folk melody. The song is quite fun, here is the chorus to give you an idea of what it is like.
"Singing, we're singing of you,
Ah, proudly too. All our lives thru,
We'll go singing, singing of you,
Singing of Idaho."
The State of Idaho is Home to Quite a Few Influential People
Out of all the famous people that have come out of Idaho, Joe Albertson is probably the biggest. Joe Albertson, the founder of the Albertson's grocery chain, began his career here on the streets of Boise. His first store was opened on the corner of State Street and Sixteenth in downtown Boise.
Another business leader to come out of Boise would have to be J.R. Simplot. Simplot was the founder of the J.R. Simplot Company, one of the nation's biggest potato and other agricultural products distributor. Simplot also struck a deal with Ray Kroc of McDonald's and is now the provider of over half the fries for the fast food giant.
The State of Idaho Has Produced Some Great Inventions and Innovations
Like we said earlier, Idaho potatoes are a big part of Idaho's history and industry. Frozen french fries and hash browns however really take the cake when it comes to agricultural innovations. J.R. Simplot's company did a great job innovating the way potatoes were bought and sold.
Another great innovation to come out of Idaho would be nuclear power. It was at the Idaho National Laboratory in the 1950s where nuclear power was first harnessed and used to power an entire city. This innovation was a long time coming and one that put Idaho on the map for science and technology.