11 Alternatives to Wallpaper and Monochrome Painting
Posted by Hughes Group Blog Team on Monday, January 2, 2017 at 5:07 PM
By Hughes Group Blog Team / January 2, 2017
Comment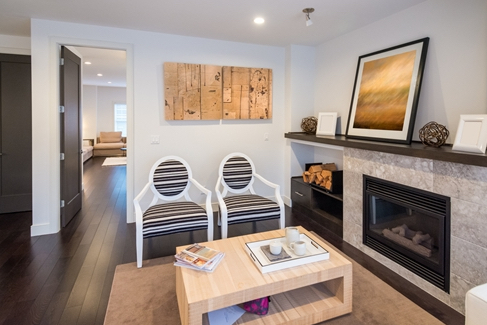 So you've done it, you've finally decided to decorate that extra room you've got. You've added some furniture, you've put in a rug, and now you need to figure out what to do with your walls. Your thoughts immediately turn to painting and you balk at the thought. 'Too much time!' you think. Then you think about wallpaper. Wallpaper does speed up the process and give you less of a chance of mistakenly coloring a part of your house that wasn't supposed to be colored. Wallpaper can be a great way decorate your new home, however, there are a few problems with it. The first, namely, being that you have to commit to it. Once you go with wallpaper, there is no going back. At least without much struggle. So here are a few alternatives to wallpaper that you might consider.
Wall Stencils
These are pretty cool. If you haven't seen these, they are giant stencils that come in all different patterns. If you want an intricate, complex pattern or a simple yet elegant one, you will easily be able to find something to fit your preferences. All you do is put the stencil on the wall and paint over it leaving a beautiful design behind. Not to mention they are quite simple to use. By simply following the instructions that come with the stencil, you can easily beautify your room without having to spend hours doing it— or a lot of money on paint and supplies.
Texturing
Now, this is a bit of a two-parter. Texturing your walls, by yourself, could take as much time or more as painting. If you have the time then more power to you, just follow all safety guidelines. This can be done with textured paint or with a texture sprayer (textured sprayers are going to cost a lot, you might be able to rent one— either way, learning to use it might be a bit of a process).
You can also, however, hire someone to do it for you. There are plenty of professional painters in the Boise area that would happily do the job. This would save you time, stress, and maybe even money depending on the prices of the materials and labor.
Patterned paint rollers
This is an idea you have probably seen on Pinterest or Facebook at some point or another. You can either buy them or make your own pretty easy. All you do is get or make a paint roller that has some sort of design or pattern on it. Roll it in the paint and then go to town. This will require less paint and less time (in most cases) however you will need to be cognizant of the direction you paint so that the pattern doesn't get disturbed.
Decals
Decals are another great option if you don't have a lot of time, money, or desire to really get into a décor project. Decals, if you don't already know, are giant, semi-permanent stickers for your walls. (Car decals exist too, but you won't want those for your wall). You can get decals in almost any design, color, pattern, and shape. Each decal will be different, but the instructions should be pretty simple. The only thing you need to be careful of is putting it on the wall in the right spot— and not putting it on crooked.
Full wall photographs
In the realm of decals is also the full wall photograph. This is a bold design choice as it dominates the room you decide to put it in. Now, these full wall photographs are actually pretty similar to wallpaper in that, unless you get the easily removable kind, you are a bit committed to it for a long while. However, it is easy and is a bit more modern than traditional wallpaper. However, they are a great alternative because you usually only do one wall with them instead of all the walls in a room which means it will be cheaper, in a sense, and it allows you to branch out on the other walls.
Murals
Murals and full wall photography go hand in hand. However, when you say mural, it is usually a painting or other hand done art. You can either do your own art on the wall, allow someone else to do their art there, or buy some existing wall art. Whatever way you choose, it will look great. If you have been wanting to let your inner artist get out, then this would be a great way to do that. However, remember, if you make a mistake you are likely going to have to paint the wall completely to start over.
Pegboards
So, this is probably more for your workshop or garage. Instead of leaving your walls white or risking going too artistic with the décor of those rooms, you can always put up a utility wall or pegboards. Pegboards will add some functionality to your walls as well which is great if you are worried about space. You can do this in a number of different ways, so it really just depends on the size of the space and the amount of money you can spend on pegboards. In this same fashion, you could hang shelves, put up shelving units, and so forth to cover the bare walls without having to do any decorating.
Pictures
Now, this may seem a bit of a step backward, but really, framed pictures, or canvas pictures, are a great way to cover your walls. They are relatively inexpensive, customizable, and they don't damage the walls much. You can put up pictures in an artistic fashion all over the room, you don't have to completely cover a wall with them, but rather just arrange a few there to give it a bit of an artistic flair.
Framed wallpaper
If you still like wallpaper, but don't want to damage your walls, you can also frame your favorite wallpaper in large body length picture frames and hang them on the walls. This is a nice artistic twist on the idea of wallpaper. You can do this in almost any décor theme. All you need to do is find the right wallpaper and the right frame.
Whiteboard/ Chalkboard
Another cool idea is to cover an entire wall with a whiteboard or chalkboard. You can buy large panels of white and chalkboard boards that are meant to be hung on the walls. You can make it only a part of the wall, or you could do it with the whole wall as some teachers do in their classrooms. This would be great for an artist or someone who likes to do equations or just someone who likes to write themselves a lot of notes.
Sculpted and patterned paneling
Our last idea for sprucing up your walls without having to do much effort is to use panels. There are wide varieties of wall panels out there and they are pretty easy to install. You can get a bunch to cover the entire wall or a few to just decorate it. With the wide array of sizes, patterns, and colors you can easily decorate your walls for a good price in no time at all.
Now, obviously these are not the only ways you can do it, but these will at least get you started. For more ideas for your home check out our blogs. We have dozens of ideas of how you can decorate, accessorize, or DIY your home.