10 Reasons to move to the Treasure Valley
Posted by Hughes Group Blog Team on Friday, March 24, 2017 at 5:15 PM
By Hughes Group Blog Team / March 24, 2017
Comment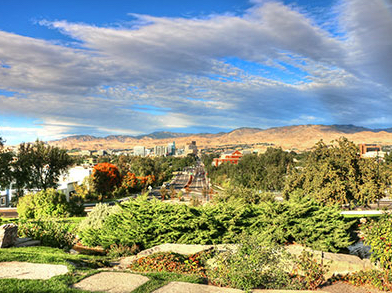 Boise was featured as Number one in Time Magazine's Cities that "Get It Right" in 2014 in the "Solutions for America" Article. In 2008 Boise landed the number two spot in Forbes for "Best Places for Business and Careers." Boise is also the #6 place to live in the US according to US news and world report as of 2016. It's also ranked #3 for places to find jobs in the spring according to Business insider's 2016.
The Treasure Valley is a great place to retire. Boise was listed in the top 10 best places to live in 2009 and Meridian, Idaho as listed in the top 25 places in the US to retire, in Forbes Magazine. Boise airport serves more than 3 million people a year and is less than five miles from downtown Boise so it's great if you would like to visit family or friends who live far away. Boise has a bus system throughout the Boise valley, called Valley Ride, and has a freight service with over four branch lines.
The Treasure Valley is a relatively safe place to live. Boise Idaho is one of the 25 safest places to live in the US according to Business Insider. It scored number one by Farmers Insurance as secure places to live. According to some statistics, Idaho has one of the lowest crime rates in the US, and the second lowest crime rate in the west.
The Treasure Valey has award-winning schools from Boise State University to the public schools. U.S. News and World report called Boise State University one of the top universities in the west. In 2016 U.S. News Best High Schools article, three out of nine of their top ranked schools were from the Treasure Valley.
The Treasure Valley has a big beer and wine culture. Let's start this off by saying this: you can always find a good drink in Boise. In fact, Boise has a self-guided beer trail that takes you through 208 local craft breweries. There is also an event in Boise which brings in local breweries to work together during American craft beer week.
The Treasure Valley has great outdoor activities. The Treasure valley has four seasons making it great for all sorts of outdoor activities including skiing, hiking, cycling, rock climbing and more. Serious cyclists have come from all over the world to attend the Twilight Criterium race, as well as Idaho's challenging terrain.
The Treasure Valley is culturally diverse. The Treasure valley is home to the second largest Basque population in North America. The Basque neighborhood is a very large and close-knit community between 6th and Capital boulevard on Grove street. This is where they keep their heritage alive with the Basque museum, cultural center restaurants and Basque market. However, the Treasure Valley doesn't stop there when it comes to cultural diversity: Over 90 different languages are spoken in the Boise School District, and over 24 language courses are available through local universities and education programs.
The Treasure Valley is all about being eco-friendly. For those of you who don't know, Boise means 'city of trees' which is a name that truly reflects or love for the world around us. With one of the biggest hotels (Hotel 43) using environmental friendly rooms, energy efficient lighting, recycled worn décor; the State Capitol Building being heated from geothermal energy; and the strong sense of outdoor preservation it is easy to see that we here in the Treasure Valley will do whatever we can to treat our environment right.
The Treasure Valley is great for football fans. If you are a football fan you probably know that Boise State University's team is the Boise State Broncos and that BSU, has one of the only non-green turfs in the NCAA. But the really great thing about the Treasure Valley and football fans is the game day culture. You see, Albertson's Stadium can seat up to 37,000 people (and the parking lot can hold many more if you count the tailgaters) and stores around the valley hold specials, stock up, and seriously prep for kick-off. You should see Costco and Walmart the hours before the game starts, it is like you are swimming in a sea of blue and orange. Boise's unique blue turf is not only home to the Broncos but also the Famous Idaho Potato bowl which brings in teams
The Treasure Valley hosts concerts and festivities all year round. In years past the Treasure Valley has been graced by visits from everyone from Maroon 5 to Thomas Rhett Chase Rice and Meghan Trainor to Skillet. In the summer we have the Treefort Music Festival and Boise Music Festival. At Treefort local artists perform at multiple venues around town and at the Boise Music Festival lots of big name artists perform as well.