10 Cool Deck Ideas!
Posted by Hughes Group Blog Team on Sunday, May 28, 2017 at 10:05 PM
By Hughes Group Blog Team / May 28, 2017
Comment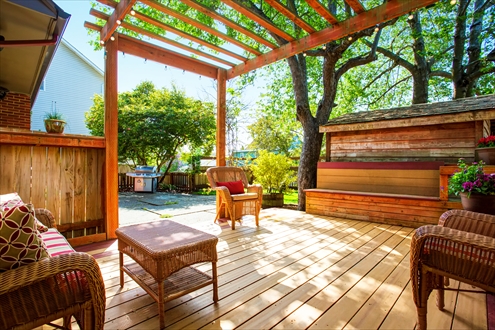 So you've finally done it, you've finished your deck. Now your backyard has a designated space for rest, relaxation, or recreation. But now, what to do next? What kind of accessories and additions will take your deck to the next level? Well, look no further. Here are 10 cool deck ideas that will make your deck the talk of the town and your new favorite place to hang out.
Torches
Lighting is very important for an outdoor recreational area. You can achieve this in many ways, but there are few things as awesome as some torches. Now, when we say torches, these can be open flame torches or just electric lights in the shape of a torch. Whatever you are comfortable with is the best. Now, there are plenty of different torch styles, all of which have a different feeling. A fun thing to do is to take old glass bottles, fill them half way with sand and the other half with Tiki torch fuel; with this arrangement, you can put a cotton wick down into the bottle and voila! You have a beautiful torch. (Follow all safety precautions listed on the torch fluid that you buy. Fire can be very dangerous and needs to be handled with care).
Hammocks
Hammocks are another great thing to add to your deck, especially if you want to use it as a place for rest and relaxation. Hammocks, when used correctly, can be a great way to spend a sunny afternoon. There are plenty of different types of hammocks that you can use. For instance, there are free standing hammocks that you can find in department stores then there are also hammocks that attach to the railing of your deck. If you feel up to it and have the knowhow and the resources, you could also make your own hammock out of various materials.
Games
If you like relaxing out on your deck but also want to play games, then you need to check out the lawn games section of your local department store or internet shop of your choice. You can find numerous games that are built to be used outside that will transform your deck from ordinary to extraordinary. You can find yourself chess boards, checkers sets, and all things in between. You can find them in regular and giant size as well if you want to give your deck a special feel to it.
Hot tubs
Hot tubs are great, especially if you have sore muscles or an injury. The hot water can help loosen things up and relax you within only a few minutes of sliding in the water. You can find all sorts of hot tubs for every price range imaginable and they are even built to be added to or next to a deck. Not to mention they are great for entertaining. There is nothing like an evening in a hot tub playing games with your guests.
Fire pits
Fire pits are also great if you plan on entertaining, or if you just like to sit near a beautiful fire. You can buy a fire pit for your deck, or you can make one. Whatever you do, however, make sure that you separate the wood of the deck and the fire by some sort of metal sheeting or rock. If you don't you run the risk of ruining your beautiful deck.
Sandpits
There is nothing more fun than sticking your toes in the sand at a beach. It is the icing on the proverbial cake when it comes to enjoying the summer. One cool thing you can do with your deck is to build a small box that either sits on the floor of the deck or is sunk down into it and fill it with beach sand. This makes for a great soft and warm place to burrow your toes even if you are miles away from a beach making your backyard a veritable day at the beach.
Projectors
If you like movies then this is the idea for you. If you have enough room on your deck, and a large enough space of blank wall, you can set up a nice projector to enjoy your favorite blockbuster hits or silver screen classics! All you would need now is a bag of popcorn and some treats and you are good to go.
Exercise mats
If you are into yoga, martial arts, or any other activity that involves a good set of floor mats, you will probably love having a set of mats on your deck. This way you can enjoy your activities under the open sky and in the privacy of your own backyard. If you do decide to do this idea, however, you will want to look into waterproof and slip proof mats so that the weather doesn't damage them or make them a hazard to you.
Slides
If you have ever enjoyed a slide at a playground or jungle gym, then you might enjoy having a slide off the side of your deck. It doesn't have to be long or steep, just a simple slide. It will give you a fun way to get down to the level of the lawn and will be hours of fun for your pets if you have them. This idea, however, only works if your deck is higher than the lawn, to begin with.
Garden plots
Another great idea for your deck is to build a garden area into it. Garden or planter boxes are a great way to garden without having to deal with the dirt in your backyard. Not to mention you can raise them up to any height you would like so you don't have to be bending over all the time.
Now, the ideas don't stop here. You can actually do quite a bit of great stuff on your deck, we just don't have the time to list them all. If none of these ideas are what you are looking for, don't lose hope, keep on searching.
We at the Hughes Group are home experts. Whether you want to buy, sell, or fix up your home, we are the people to go to. Give us a call if you have any real estate related questions because we would be happy to help you out.